10DLC SMS & MMS Support
Is Your 10DLC Cut Off?
If your 10DLC messaging traffic has been affected by Twilio's cut offs, get in touch with our experts today to learn how Telgorithm can get your compliant unregistered traffic back up and running while we support you through the registration process.
Trusted by Brands Like



Migrate & Port Numbers Instantly.
With Telgorithm, you can avoid the cut off and get any compliant unregistered 10DLC messaging traffic back up and running while we guide you through completing the registration process.
Instantly port or purchase numbers & in bulk for zero disruptions



Register with The Campaign Registry in minutes with expert guidance
Get expedited DCA Campaign approvals



= the fastest turn up in the A2P 10DLC industry



What Our Customers Are Saying About Making the Switch
"Overall a great experience coming from Twilio and Bandwidth. With the recent changes in 10DLC, we were dead in the water with the previous vendors. Telgorithm team has been instrumental in keeping our SMS business alive."
"Telgorithm offers incredibly competitive pricing, an easy to use + implement API, and truly next level support. Their guided implementation process has made transitioning from our old provider (Twilio) a breeze. Their team is incredibly responsive to support questions/requests and is very receptive to input from their customers with regard to their product roadmap and new feature development."
"We're a startup that was originally with Twilio but after needing better control and better pricing, we switched to Telgorithm. The API integration itself was very easy and required minimal hand-holding from the team. The one piece that I appreciate the most from Telgorithm is their customer service team. The turnaround time on even some of our most complicated questions can be measured in minutes, if not seconds. They are by far the quickest, and most informative business partner that we have."
Telgorithm streamlines 10DLC registration process with:
Automated Registration
Telgorithm is partnered with TCR for a unique API-based registration, saving customers time & cutting the risk of human errors.
Expedited Campaign Vetting
Due to our trusted relationships with DCAs, you can expect Campaign vetting approvals in days, not weeks.
Auto Number Provisioning
Migrate existing numbers or purchase new numbers instantly for new Campaigns for immediate turn up.
Don't Get
Rejected

.

Brand and Campaign rejections are on the rise resulting in costly disruptions. Here are a few pro tips for avoiding rejections and getting approved the first time around:
Brand Registration Tips
✅ Legal Company Name: The company name of the Brand must match the EIN
✅ Tax Number/ID/EIN: Any typos will significantly impact your verification process
✅ Business Location: Important! Must match what's on file with the IRS through your EIN
✅ Website/Online Presence: This is a requirement, do not skip
Campaign Registration Tips
✅ Call-to-Action / Message Flow: Clearly describe how you're getting opt-ins from your customers
✅ Sample Messages: Share a minimum of 2 sample messages and ALWAYS include opt-out language
✅ Subscriber Opt-in / Opt-out: Must mark both as "yes" – we strongly encourage including keywords
Three unique features you need for 99%+ message deliverability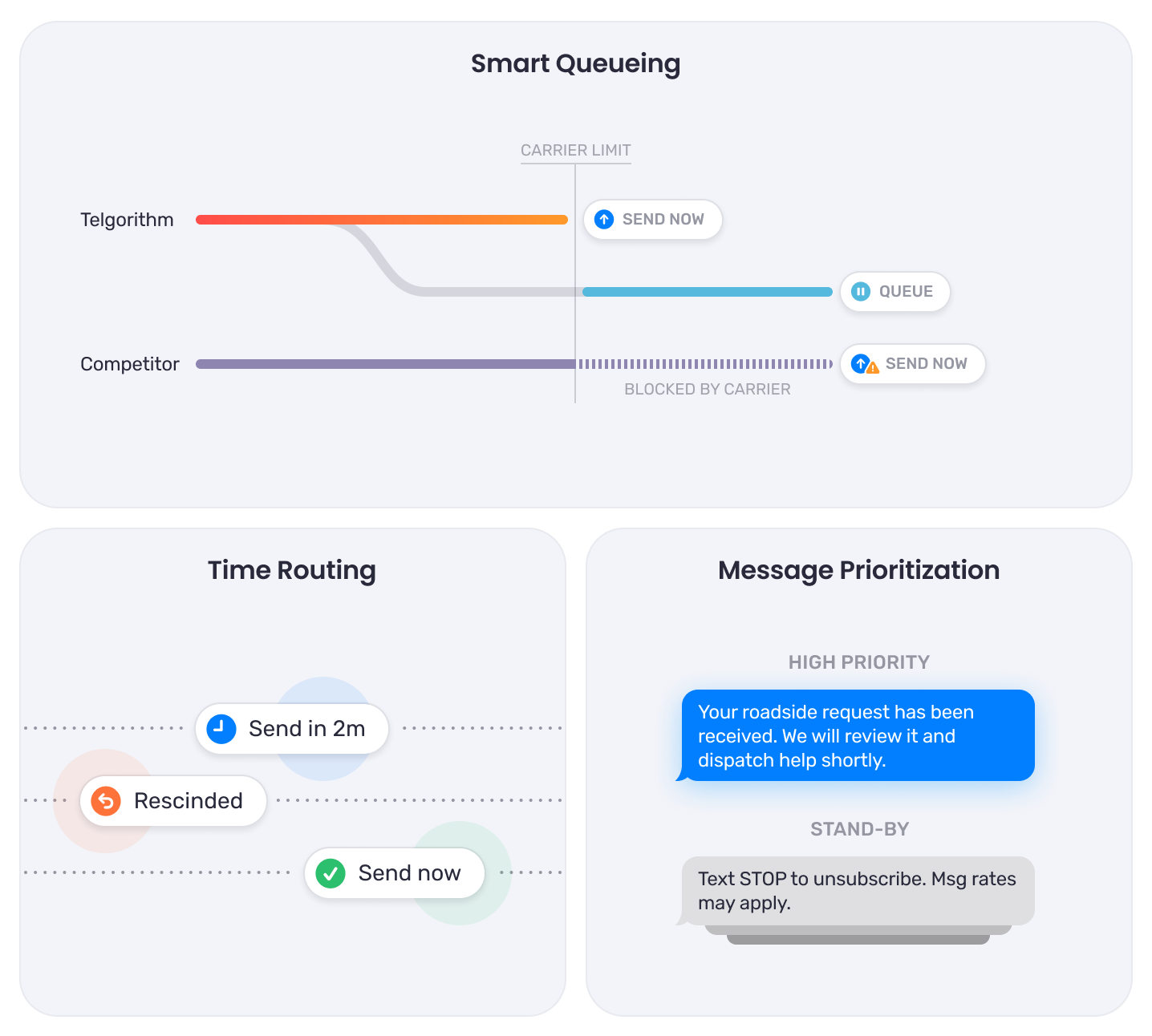 WHY TELGORITHM
Expect more from your messaging API provider.
Don't overlook disruptions – take control now with Telgorithm. We streamline the entire SMS & MMS messaging journey for the reliability your business needs:
Automations
Reduce manual processes, friction, & unnecessary overhead cost.
Guaranteed Deliverability
With Smart Queueing we enable reliable messaging for max returns on rate limits.
Fast & Easy Integration
Get started in one week or less. Requires less than one day of engineering work.
1:1 Customer Service
Our A2P experts are on call for transparent support & guidance.
Mitigate disruptions & get your customers' texts where they need to go with Telgorithm.